Our Story & History
Kiefer Swim was started by American Adolph Kiefer in 1947. By that time Adolph Kiefer had won the gold medal in the 100M Backstroke at the 1936 Olympics, broken 14 world swimming records, and taught thousands of Navy seamen how to swim during World War II.

Adolph Kiefer invented many of the products and swim categories still in use today - including pioneering developments in competitive racing lanes, starting blocks, swimwear, lifeguard safety, and aquatic therapy solutions.

After 70 years of innovation, we are humbled by our history and proud of our ongoing commitment to Swim with Confidence in the aquatics industry.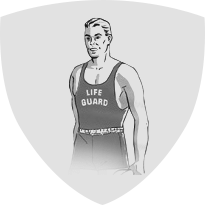 SAVING LIVES MADE EASIER
Basic Rescue Cans were the only standard lifeguard safety gear as far back as 1950.

Kiefer Swim explored ways to improve the rescue can design and create entirely new, softer life-saving Rescue Tube solutions that would be easier to use for lifeguards and a more effective solution to stay afloat and save lives.
The Kiefer Rescue Tube is now the recognized safety standard. Kiefer Rescue Tubes come in various sizes and styles to suit any pool and guard training water environments and are a driving innovation to support Swim with Confidence today.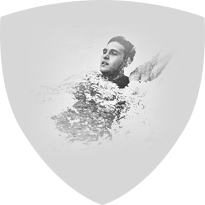 REINVENTING THE WAY WE SWIM

After observing freestyle swimmers performing the flip turn during races, Adolph Kiefer thought to himself, "If they can do it on their stomach, I can do it on my back".

Throughout 1935 and 1936, Adolph Kiefer worked tirelessly to refine and perfect a new innovative backstroke flip turn. Adolph Kiefer threw one arm across his opposite shoulder, over his head, and bringing his knees up to his chest, while spinning with his opposite hand - putting two feet firmly against the wall, and then finally taking a hard kick and a long pull to propel himself through the water. Amazingly, 70 years later, the "backstroke flip turn" Adolph invented is still commonly used.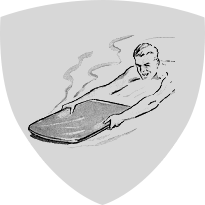 SWIM KICKBOARD INNOVATION LEADS GENERATIONS OF SWIMMERS

During his time as a Chief Athletics Specialists in the Navy's Physical Fitness/Swimming Division during World War II, Adolph Kiefer was in search of a device to help new recruits improve the power of their kick - an essential ingredient in water survival. Kiefer Swim invented a flat piece of buoyant plastic and fiberglass and dubbed it the "kickboard". The Swim Kickboard represented another pioneering innovation that changed the way we Swim with Confidence today.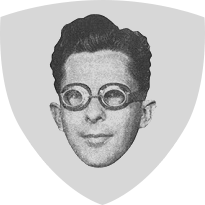 SWIM GOGGLES INNOVATION CREATES SUPERIOR SWIMMING PERFORMANCE

Kiefer Swim (driven by Adolph Kiefer) invented the modern, soft-gasket swim goggles that keeps irritants like chlorine or salt water out of the eyes. Kiefer swim goggles continue to be a proven and trusted choice today to Swim with Confidence.
SWIMSUIT INNOVATION

Today's high-tech racing swimsuits trace their origins all the way back to Kiefer Swim development of the first nylon swimsuit in 1948. Adolph Kiefer won his Olympic Gold Medal in 1936 wearing a silk suit that was standard for racers at the time. A silk shortage some years later led suit makers to switch to polyester which proved to be heavy, stiff and uncomfortable.

Always the innovator, Adolph Kiefer met with a Chicago garment company that made nylon girdles, looking to craft a swimsuit that was lightweight and flexible. By 1948, Kiefer Swim was selling the first nylon swimsuits, even customizing colors for swim teams. Nylon remains the most popular material for swimwear, and is used by Kiefer to Swim with Confidence by every leading swimsuit manufacturer throughout the world.
KIEFER RACING LANES SIGNIFICANTLY REDUCED POOL WAVES

"Waves" are a naturally occurring force that pose a challenge for all competitive swimmers. After careful modification, Kiefer Swim has pioneered racing lanes to quell the "waves" providing additional turbulence-dampening in the pool so swimmers could move thorugh the water faster and easier. This revolution by Kiefer Swim included a plastic sleeve-device that has a calming effect on wave turbulence that completely changed the way competitors Swim with Confidence today.
Kiefer Swim continues our focus on innovation today to ensure you can Swim with Confidence!