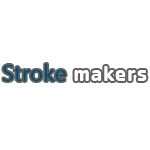 Availability: Usually Ships within 24 hours.
Strokemakers were engineered to improve your swimming stroke while limiting stress on your shoulders. Strokemakers can be used in all four competitive strokes for drills, pulling sets, and sprint-assisted swimming. Swimmers may want to consider dropping down one or two sizes during taper and at the beginning of seasons. The paddles are also useful for synchro swimmers, water aerobics and some medical rehab due to their ability to increase strength and sculling skills.
Increase distance per stroke by inhibiting early recovery.
Strengthens swimming specific muscles as well as muscles used in water propulsion.
Holes and flexible design of the paddles improve the swimmer's feel for the water.
Paddles exaggerate to the swimmer both correct and incorrect movements.
Get Stronger Muscles and Improved Technique With Strokemaker Paddles
Swimmers need to not only increase their stroke rate but make sure they correctly execute their glide, pull and recover.
These swimming hand paddles help swimmers improve their stroke. The strokemaker hand paddles create more resistance and inhibit early recovery in the water, so swimmers need to pull harder. This makes them go faster and get stronger while swimming, and water propulsion builds muscles while reducing stress on shoulders. The large size of the swim paddles also exaggerates any moves the swimmer makes — good and bad. This can help them stay aware of their movements and improve their technique. Swimmers may find it useful to decrease their strokemaker hand paddle size by one or two during taper and the start of the season.
When swimming laps, technique and strength will help a swimmer increase their tempo. These swim paddles will help a swimmer improve both.
XXSmall (Blue) - for children age 7-10
XSmall (Blue) - for 8-11 age group and female masters swimmers
Small (Green) - for ages 9-13; high school stroke swimmers
Medium (Yellow) - for older age-group girls and younger HS boys; college women, beginning male masters
Large (Red) - SR Natl level girls, older HS and college boys
XLarge (Dark Blue) - for college men, Sr. Nat'l boys, very strong college women
XXLarge (Green) - for strongest swimmers
Bulk Order
Please enter desired quantities below and click the "Add Bulk Products" button.
If your order includes customization, please see above for additional options