The 1936 Olympics were one of the most memorable and dramatic Olympics of the modern age. Prewar Germany was alight with a new spirit of revolution after being humiliated in World War I just 18 years earlier. The American Olympic team featured future legends Jesse Owens, Louie Zamperini and the youngest member of the team, 17 year old Adolph "Sonny" Kiefer, the world record holder in the 100M backstroke. I am fortunate to have heard the story of his Olympic race from Adolph himself but the following description from Alan Abrahamson in his article "The Father of American Swimming" (from the USA Swimming Splashmakers book) truly captures the essence of the man and the moment.
"The photo of Kiefer winning gold in 1936 underscores just how good he was. He won by a body length over his American teammate Albert VandeWeghe, touching in Olympic record time, 1:05.9 to VandeWeghe's 1:07.7."
[caption id="attachment_2316" align="aligncenter" width="400"]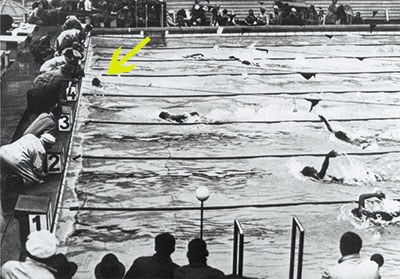 Adolph Kiefer winning the 100M Backstroke
at the 1936 Olympics in Berlin, Germany[/caption]
(As an aside……If you look closely at the picture of Adolph winning the race at the Olympics, it looks like the spectators were wearing overcoats so it must have either been a cool or rainy day and my guess is that the pool wasn't heated!)
[caption id="attachment_2317" align="aligncenter" width="450"]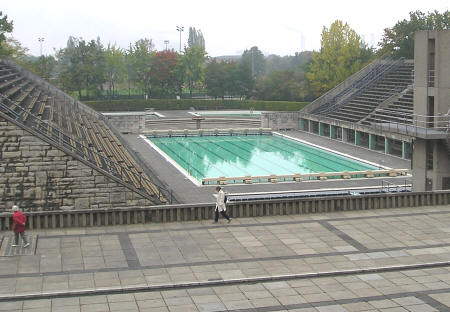 1936 Berlin Olympics Swimming Venue[/caption] It really wasn't a surprise that Adolph won the gold medal. In 1935 he broke 11 American and world backstroke records in five weeks. Talk about being in the zone but there is actually a very good reason he swam so fast. The undisputed truth is that Adolph invented the backstroke flip turn. 80 years later it's still the standard for changing direction. Of course he trained hard, had a single-minded focus on being the best in the world and was fast through the water but there is no question that the flip turn gave him an edge. Although World War II robbed him of two more Olympic opportunities, between 1935 and 1944 he set 17 world records and none were broken until 1950. Abrahamson also comments in his article; "If Adolph Kiefer were swimming competitively now, he would be Mark Spitz, Michael Phelps and Ryan Lochte all rolled into one. He would be the face of American swimming. The poster boy. The all-American guy. The can-you-believe-he-did-that-again record breaker." At Kiefer Swim Products being true to our rich heritage is critically important to us. We strive to be the company that works hard, is focused on our customers, innovates new and better ways to support competitive and safe swimming and pays our successes forward.